SeaBuck7 Alpaca/Llama
00003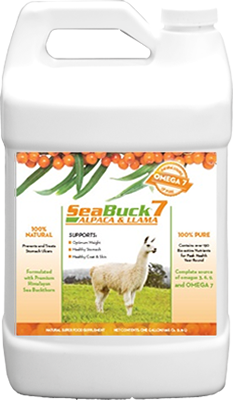 SeaBuck 7 Llama/Alpaca
is a natural food-based supplement that is easily digested and contributes to healthier internal and external functions. Each serving provides over 190 bioactive compounds including the best source of Omega 7 plus Omegas 3, 6 and 9; vitamins, flavonoids, carotenoids, selenium and a host of other nutrients and powerful antioxidants. Shown to help improve and maintain healthy digestive and intestinal tracts, reproductive health, and coat appearance and shine.
Add Directly to Food or Water:
3 Simple Steps to better Llama / Alpaca Health
MEASURE
MIX
SERVE
Recommended Daily Dosage:
2-3 oz.-
Maintains Health, Improves Skin & Coat Appearance
4 oz. –
Before/During Reproductive Stages (Male & Female), Throughout Pregnancy and Nursing Cycles (Female)

4 oz. –
For Prevention and Treatment of Ulcers

4 oz. –
Recovering from Sickness or Injury
Ingredients:
Wild Crafted Himalayan Sea Buckthorn Berry
Purified Water
Nutrient Stabilizer
Product Volume:
Gallon Size contains: 128 fluid ounces/3.78 Liters
Overall Improvements in External & Internal Health

SeaBuck 7 Llama/Alpaca is a natural, food-based liquid supplement made from wildcrafted sea buckthorn berries. Easily absorbed and shown to improve gastro-intestinal, urogenital and cardiovascular systems. SeaBuck 7 Llama/Alpaca is easily digested readily absorbed and provides a host of vitamins, nutrients and bioactives.
UPC:SB7Alpaca/Llama
Brand:
SeaBuck7 Alpaca/Lama