SeaBuck7 Bovine
00002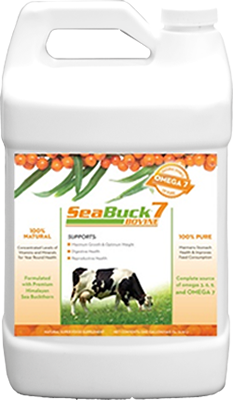 SeaBuck 7 Bovine
is a healthy food-based, readily absorbed and digested natural supplement that contributes to the health and wellness of cattle and livestock. Each serving provides over 190 bioactive compounds including the best source of Omega 7 plus megas 3, 6 and 9; vitamins, flavonoids, carotenoids, selenium and a host of other nutrients and powerful antioxidants. Benefits include weight management, digestive support, improved internal and reproductive functions plus a great looking coat and nourished hooves.
Add Directly to Food or Water:
3 Simple Steps to better Equine Health
MEASURE
MIX
SERVE
Recommended Daily Dosage:
2-3 oz.- Maintains Health, Improves Skin & Coat Appearance
4 oz. – For Prevention and Treatment of Ulcers
4 oz. – Recovering from Sickness or Injury
4 oz. – Before/During Reproductive Stages (Male & Female), Throughout Pregnancy and Nursing Cycles (Female)
Ingredients:
Wild Crafted Himalayan Sea Buckthorn Berry
Purified Water
Nutrient Stabilizer
Product Volume:
Gallon Size contains: 128 fluid ounces/3.78 Liters
Shown to Improve Health & Wellness of Cattle & Livestock
SeaBuck 7 Bovine has shown incredible results in supporting healthier digestive functions, obtaining optimum weight, reducing inflammation, and in the treatment/prevention of ulcers. SeaBuck 7 Bovine is a 100% natural, food-based liquid supplement made from wildcrafted sea buckthorn berries. The pure, easily digested sea buckthorn fruit supplement provides Omega 7 for internal and external health and wellness along with over 190 bioactive nutrients.