SeaBuck7 Scours
00004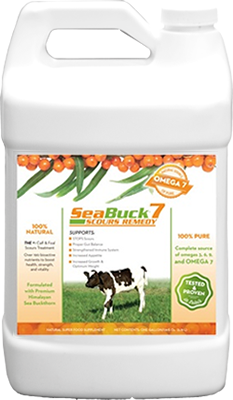 SeaBuck 7 Scours
is a natural liquid supplement that addresses overall health and functions in calves to treat and prevent scours. Daily servings provide over 190 bioactive compounds including the best source of Omega 7 plus Omegas 3, 6 and 9; vitamins, flavonoids, carotenoids, selenium and a host of other nutrients and powerful antioxidants. Proven as a safe and effective, natural alternative in the treatment and prevention of scours.
Add Directly to Food or Water:
3 Simple Steps Towards Treating and Preventing Scours
MEASURE
MIX
SERVE
Recommended Daily Dosage:
1-2 oz. –
Scours Treatment for
Calves
( Daily for 5 days, Continue to administer 1 oz. daily for 4 weeks )
2 oz. – Scours Treatment for Foals
( Daily for 2 weeks. Continue to administer 1 oz. daily for 4 weeks )
1 oz. – For Prevention of Scours
( Three times a week )
Ingredients:
Wild Crafted Himalayan Sea Buckthorn Berry
Purified Water
Nutrient Stabilizer
Product Volume:
Gallon Size contains: 128 fluid ounces/3.78 Liters
100% Success Rate
SeaBuck 7 Scours Remedy is a natural, food-based liquid supplement made from wildcrafted sea buckthorn berries. In recently conducted studies, Sea Buck 7 Scours Remedy had a 100% success rate in treating calves that had developed scours. Administered as a supplement 2 to 3 times a week, calves and foals were symptom-free plus achieved optimum health and growth benefits. SeaBuck 7 Scours Remedy is easily digested readily absorbed and provides a host of vitamins, nutrients and bioactives.