THE CF NIBBLENET® Pocket
00026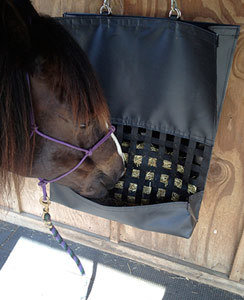 IMPORTANT NIBBLENET INFO LINKS:
---
The CF NIBBLENET® Pocket bag was designed with chopped bagged forage in mind (although any type hay can be used with this bag).
This bag is available with 1.5" or 1.25" openings, is 4" deep and has a 4" pocket on the front. This pocket is vital to capture the smaller chaff as bagged forage is so finely chopped. Chopped forage is a bagged hay that is high quality, clean and safe alternative to baled hay for horses with respiratory issues, medical or dietary restrictions.
The NIBBLENET® regulates the amount of hay the horse can get at one time thus extending the feed time. Using chopped bagged forage hay together with the NIBBLENET®, helps horses with Insulin Resistance, Cushings Disease, Laminitis and other medical issues by being consistent with quality and feed-time management.
This bag is super tough (40 ounce vinyl, Black only) and comes with a top and a bottom strap.