THE NIBBLENET® Extreme
00021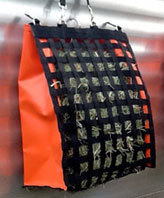 IMPORTANT NIBBLENET® INFO LINKS:
---
We know that some of you live in extreme cold conditions and have horses and environments that are extremely rough on things, so we have created two new bags!
Rough, inconsistent and uneven surfaces, and especially round pen corral panels can be very hard on the vinyl, but the 40 ounce stands strong!
These are the exact same as as our existing NibbleNets ®: the 9" deep (the new 940) and the 12" XL (the new 1240)
We have replaced the vinyl backing with our extreme heavy duty 40 ounce vinyl!
Available in extreme orange only
Available with 2" or 1.5" squares
ALL STAINLESS STEEL HARDWARE
The 940 is 24" x 22" x 9"
The 1240 is 28" x 22" x 12"
Introducing our new 940 and 1240 EXTREME
Options:
Colour - Orange Only

Bag Depth 9" or 12"
UPC:NNstandard
Brand:
The NibbleNet Standard