THE NIBBLENET® Sheets
00025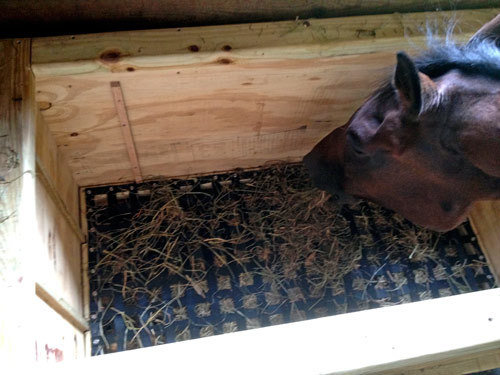 IMPORTANT NIBBLENET® INFO LINKS:
---
These flat "sheets" are stitched webbing grids that can be used for a Ground Box or laced over larger bales.
Large sheets are available in 46" x 46" (-1/2") or 46" x 70" (-1/2") with 1.5" openings

Smaller sheets are 24" x 46" (-1/2") are available with 1.5" or 1.25" openings. Send us your photos and share your slow-feeding creativity!
We now offer NibbleNet® "Sheets" for those DIY projects!
---
Please note: This "sheet" is the NIBBLENET® webbing grid ONLY.

In this photo the NIBBLENET® grid is screwed into a wood frame inside a properly sized box. If you are using an existing box, you may be better ordering a Double-Nibble to attach inside your box!