THE NIBBLENET® Nibble-Go Round
00010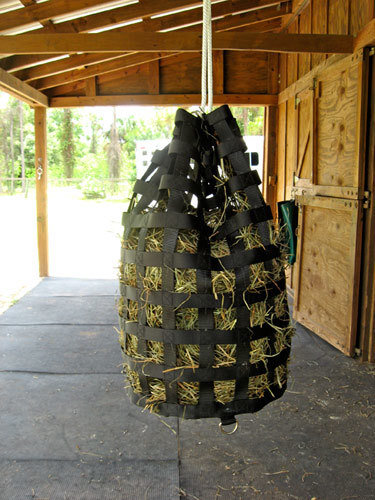 IMPORTANT NIBBLENET® INFO LINKS:
---
Our newest invention and one very cool bag is now available in a larger size!!
Nibble-Go-Round SMALL measures 22" tall and has a bottom diameter of 13". It is available in 2", 1.5" and 1.25" openings. It holds 8 to 10 pounds of hay.
Nibble-Go-Round LARGE measures 23" tall and has a bottom diameter of 17". It is available ONLY with 1.5" openings.
It comes with a draw-rope to close the bag which is threaded through (8) D-rings to draw the top closed. Also, our 24" straps work beautifully on the top (not included). We have placed the same webbing grid on the bottom of the bag to ensure that the very fine chaff falls to the floor and does not get stuck in the bag.

This bag has one D-ring on the bottom should you decide to stabilize it, but with the webbing all around the bag, you can just let it twirl around. Like, well, A Merry-go-Round!
This bag is extremely easy to stuff with the round opening top. It holds (2) of our 3" thick flakes (8-10 pounds). I am able to fold one of our a flakes in half, then fold another in half right on top. The hay can also be broken up and stuffed into the bag. Remember you can always put less hay in these bags and they can get all of it out.

Just like all of our other bags, this is an extremely durable and safe bag. We absolutely love it in the trailer. It fits perfectly in the corner of a slant load trailer or hangs in between horses in a straight load trailer. The photos show some ideas for hanging it in lots of different places

Small 22" Tall x 13" Bottom Diameter. Holds 8 to 10 Lbs of Hay

Large 23" Tall x 17" Bottom Diameter. Holds 8 to 10 Lbs of Hay
---
This is Kieran, an 8 year old Percheron cross PMU baby. He is very food-motivated and requires 1.25" holes and a free swinging bag. The Nibble-Go-Round also serves as a toy to keep him occupied in his stall. This bag is available with 2", 1.5" or 1.25" holes. It can also fit neatly in the corner of a trailer and will hold approximately 1-2 small flakes.