THE NIBBLENET®​ Nibble-N-Go
00009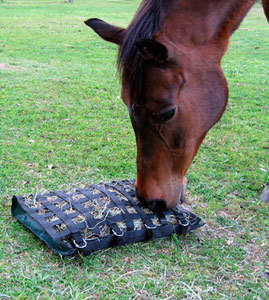 IMPORTANT NIBBLENET® INFO LINKS:
---
This is a fun new NIBBLENET ® product! It is just like the Picnic model except there are D-rings to close off the entire top. So, stuff it with hay and throw it out in the pasture. Suddenly, it becomes not only a slow-feeding hay bag, but a toy as well. Some horses run around with it, some horses stand on it and pull the hay out, and some horses grab a mouthful of hay and shake it. However they do it, it is fun!!

We have also discovered that the hay lasts even longer fed this way as the horses do not have anything to pull against, so they get less hay per mouthful!

We also had another recent discovery. We went to a clinic where the barn manager would not let us hang anything in the stalls. So, we filled our Nibble-N-Go and just threw it in the stall! Everyone else had bedding all mixed in with their horse's hay, but not us!
And of course, this bag can still be hung anywhere you wish by clipping the optional strap onto the D-rings.

Please observe your horse and remember that safety is paramount with our beloved equines.
We figure that 2-3 pounds of hay will fit into this bag.
19" tall x 22" wide x 3" deep
No Straps included with this model.

Options:
Black, Red, Blue, Green